Pack of 5 Duck Necks. Contains only 100% Duck.
The duck necks are the ideal treat for keeping your dog occupied whilst chewing on the crunchy treats will help remove tartar and plaque and keep your dog's teeth and gums clean and healthy.
This chew is ideal for the dog that prefers a longer lasting chew than a stick.
100% Natural
Gluten Free
NO Artificial Colourings
NO Artificial Fragrances
NO Artificial Flavours
NO Preservatives
NO Additives
Protein 42.8%, Fat 16.6%, Ash 18.4%
£3.70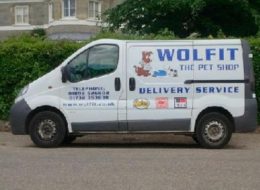 Wolfit Local Delivery Area
If you live in the Wolfit Local Delivery Area and buy 6 bags of Wolfit dog food you get the 7th, of the same size and lowest price, free. Even better there is no time limit on ordering, so you dont need to buy them all at once.
If you live within the Wolfit Local Delivery Area you are eligible for our local home delivery service for orders where the items total in value over fifteen pounds or total in weight  over 15kg. This will cost you just one pound.
View our coverage area