You can't be with your dog 24/7, but what if you could get a more detailed picture of your pet's health and wellbeing? Understand how well they sleep at night, what they get up to when your'e away from home and whether the dog walker really takes them on a good, long walk.
Introducing Animo the dog behaviour and activity monitor that learns and interprets the unique activity and behaviour patterns of your dog. Used with the Sure Petcare Animo app, it can show you many of the things that you wish your dog could tell you about their day.
Throughout your dog's lifetime, it can be difficult to notice gradual changes in behaviour and activity which could be the first signs of a health problem. Animo can help you to spot these changes early, so that you can give your dog the care they need at the right time.
£59.99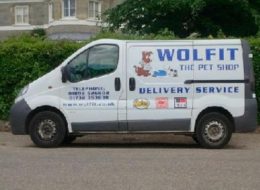 Wolfit Local Delivery Area
If you live in the Wolfit Local Delivery Area and buy 6 bags of Wolfit dog food you get the 7th, of the same size and lowest price, free. Even better there is no time limit on ordering, so you dont need to buy them all at once.
If you live within the Wolfit Local Delivery Area you are eligible for our local home delivery service for orders where the items total in value over fifteen pounds or total in weight  over 15kg. This will cost you just one pound.
View our coverage area