An absolute must for winter. This super absorbent chamois towel quickly and effectively removes mud and water.
We tried it on Poppy one of our Wolfit Facebook dogs. She was very wet and muddy but after a few wipes with the towel she was clean and dry. We just had to rinse out the towel afterwards and put it back damp in its container, no more soggy towels.
26 x 17 inches.
£6.95
Out of stock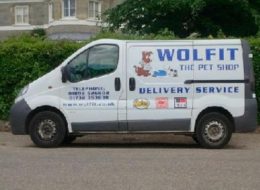 Wolfit Local Delivery Area
If you live in the Wolfit Local Delivery Area and buy 6 bags of Wolfit dog food you get the 7th, of the same size and lowest price, free. Even better there is no time limit on ordering, so you dont need to buy them all at once.
If you live within the Wolfit Local Delivery Area you are eligible for our local home delivery service for orders where the items total in value over fifteen pounds or total in weight  over 15kg. This will cost you just £1.50.
View our coverage area