£8.90
Out of stock
KONG Quest Forager is a triple threat: adorable, stimulating and fun. Designed to be stuffed with treats, dry food, or wet food. Really good for feeding "Raw", check out the video of "Otis" tucking into his lunch!!
Simulates natural foraging behaviours and extend treat time. As an added benefit, Quest Foragers clean teeth and massage gums while dogs work on getting their treats out.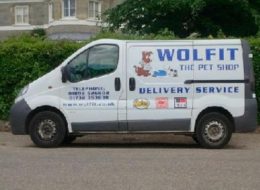 Wolfit Local Delivery Area
If you live in the Wolfit Local Delivery Area and buy 6 bags of Wolfit dog food you get the 7th, of the same size and lowest price, free. Even better there is no time limit on ordering, so you dont need to buy them all at once.
If you live within the Wolfit Local Delivery Area you are eligible for our local home delivery service for orders where the items total in value over fifteen pounds or total in weight  over 15kg. This will cost you just one pound.
View our coverage area