£1.85
Out of stock
We use the first two joints of the turkey wing (we leave the wing tip off). These are a tasty, crunchy snack for your dogs that has the added benefit of helping to keep gums healthy and teeth free of tartar. Think of these as a natural toothbrush for your dog! Add these as an occasional treat for your dog, but remember to include these when you calculate your dogs daily allowance. Each pack weighs approximately 500 g. For added crunchiness, you can leave them a bit icy for your dog. One wing per box, chopped into two pieces.
INGREDIENTS: Turkey 100%
TYPICAL ANALYSIS: moisture 64.2%, protein 16.2%, fat 11.8%, inorganic matter 3.3%, Calcium 1.2%, Phosphorus 0.6%, Sodium 0.1%, fibre 1.3%, ash 4.2%.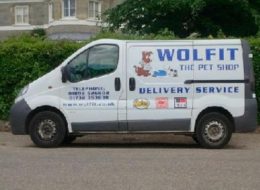 Wolfit Local Delivery Area
If you live in the Wolfit Local Delivery Area and buy 6 bags of Wolfit dog food you get the 7th, of the same size and lowest price, free. Even better there is no time limit on ordering, so you dont need to buy them all at once.
If you live within the Wolfit Local Delivery Area you are eligible for our local home delivery service for orders where the items total in value over fifteen pounds or total in weight  over 15kg. This will cost you just one pound.
View our coverage area