Ingredients
Beef 40%, chicken and bone 40%, chicken heart and liver 10%, carrots, spinach, swede, apples 10%, seaweed meal, flax seed meal, brewer's yeast.
A nutritious, healthy and extremely tasty combination of beef and chicken, with carrots, spinach, apples and swede, and seaweed meal, flax seed meal and brewers yeast.
NutriRaw Frozen food will provide your dogs with all of the essential vitamins and minerals and proteins that they required to lead a healthy and active live.
Raw dog food is known to improve your dog's health and provide it with the type of diet it is meant to be eating.
By careful selection of meat and vegetables mixed with natural additives, your dog will be receiving a balanced and natural diet, free from artificial fillers, preservatives, colouring and low quality meat products.
Your dog will have more energy, have a glossier coat and be a better house companion.
500g.
£2.60
Why feed NutriRaw?
Complete raw food is a way to more closely mirror the diet that dogs have evolved to consume over the last tens of thousands of years.
It is an attempt to remove the low quality, cheap ingredients and unnecessary fillers that are included in most currently available dry foods, and to replace them with top quality, human grade, fresh and tasty ingredients that your dog will enjoy eating and will thrive on.
One of their key selling points is the consistency and texture of their dog food, which we believe is far superior to that of their major competitors. They grind all their food through a course mincing plate which results in a lovely coarse meaty texture that your dogs will love, and this coarse texture allows you to actually see the ingredients in the food. You can identify the bits of meat, bone, heart, liver and vegetables.
Processed foods can cause your pets to have skin irritations, joint problems, tummy upsets, digestion issues, bad breath, bad teeth, hyper or aggressive behaviour, bad wind! A thought, would you feed yourselves or your children fast food every day? Processed food for pets is the equivalent of doing just that!
The BARF diet has been know to alleviate all of the above and in lots of cases it has helped to eliminate IBS and Colitis and chronic wind totally!Lets just go back to nature, back to basics and help to keep our beloved pets healthy and happy!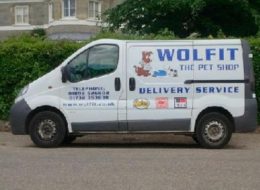 Wolfit Local Delivery Area
If you live in the Wolfit Local Delivery Area and buy 6 bags of Wolfit dog food you get the 7th, of the same size and lowest price, free. Even better there is no time limit on ordering, so you dont need to buy them all at once.
If you live within the Wolfit Local Delivery Area you are eligible for our local home delivery service for orders where the items total in value over fifteen pounds or total in weight  over 15kg. This will cost you just one pound.
View our coverage area