Slip leads allow you to easily slip the loop over your dogs neck, giving you quick control of your pet when necessary. They are also a great alternative lead for dogs who may not like to wear collars. These slip leads come with sliding stoppers which are recommend  by dog dog trainers.  If they get dirty just wash in soapy water and squeeze dry.
The wool comes from the fleece of a small flock of native, rare breed sheep, Greyface Dartmoor, Badgerface Welsh Mountain and Herdwick mix.
The yarn was taken to Outhwaites in Yorkshire, and they made rope with it which they turned into these wonderful leads in three natural colours. The leads are made to their exacting standards.  Being all wool they have a natural give and are hard wearing. The white yarn is made from the rare breed, the Greyface Dartmoor. The Household Cavalry will only use this breed because of its hard wearing for their horses numnahs.
Size: 10mm by 60inch. Please select colour.
£12.00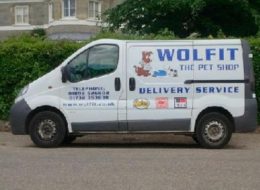 Wolfit Local Delivery Area
If you live in the Wolfit Local Delivery Area and buy 6 bags of Wolfit dog food you get the 7th, of the same size and lowest price, free. Even better there is no time limit on ordering, so you dont need to buy them all at once.
If you live within the Wolfit Local Delivery Area you are eligible for our local home delivery service for orders where the items total in value over fifteen pounds or total in weight  over 15kg. This will cost you just £1.50.
View our coverage area