Ingredients
British duck with bone (35%) British chicken with bone (35%) British beef heart (10%) British beef liver (5%) Butternut squash, Apples, Carrots, Spinach, Sea kelp, Scottish salmon oil.
Nutrients
Moisture 66.9%, Protein 13.80%, Fat 14.60%, Fibre 0.90%, Calcium 1.00%, Phosphorus 0.7%, Sodium 0.10%, Inorganic Matter 3.50%
Developed specifically for working dog puppies.
This recipe contains a range of British meats and bone as well as offal our usual extras to ensure your working puppy gets the very best start in life.
86% British meats with bone.
Complete balanced raw food for dogs. Natural human grade ingredients.
1KG.
£3.30
Out of stock
Natural Instinct is different in that it is a raw food made from natural human grade ingredients sourced from DEFRA approved farms. Battery farm chickens or any intensively farmed animals are not used.
It is a frozen food which Wolfit stocks in 1kg packets in both shops. You will need to store it in a freezer.
When you take out a packet and, after defrosting, you cut off the amount you need for any particular day and store the remainder in a refrigerator. It will keep for a further five days.
You can pick it up from our shops in Tonbridge or Tunbridge Wells or if it is more convenient and if you live within our local delivery area you can order online and we will deliver to you. You should check that you live within our local delivery area and the delivery schedule is convenient for you before you place an order.
1KG
Guide to daily feed
The general rule is that a dog should eat 2-3% of its body weight per day. For example a dog that weighs 10kg should eat roughly 200g of food per day).
Set out below are guide lines to indicate the amount of Natural Instinct food an average active dog should eat per day.
Toy, i.e. Yorkie (Adult Weight 4.5kg) –  100g
Small, i.e. Westie (Adult Weight 4.5kg to 11.5kg)  – 200g to 300g
Medium, i.e. Spaniel (Adult Weight 11.5kg to 22.5kg) – 300g to 400g
Large, i.e. Labrador (Adult Weight 22.5kg to 34kg) – 500g to 700g
Giant, i.e. Mastic (Adult Weight over 34kg) –  700g+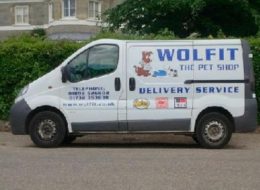 Wolfit Local Delivery Area
If you live in the Wolfit Local Delivery Area and buy 6 bags of Wolfit dog food you get the 7th, of the same size and lowest price, free. Even better there is no time limit on ordering, so you dont need to buy them all at once.
If you live within the Wolfit Local Delivery Area you are eligible for our local home delivery service for orders where the items total in value over fifteen pounds or total in weight  over 15kg. This will cost you just £1.50.
View our coverage area