The natural 'toothbrush' for dogs; dog chews made of deer antler: 100% pure, sustainable and a true product of nature. No additives, irresistible, healthy and rich in minerals, to keep your dogs teeth clean, healthy and strong.
Clean and 100% completely natural
Sustainable and animal friendly seasonal product
Rich in calcium and other minerals
Tough and hard, long lasting and does not splinter
No harmful additives or preservatives
An attractive scent for the dog
Hypo-allergenic and free of gluten
A treat for dogs
Helps to fight obesity
For a puppy we recommend half an antler.
From: £7.90
Why Antlers?
Dogs naturally have a strong need to chew on something. They do this because it is the only way they to keep their teeth clean in a natural way. In nature, wolves and other canidae, after a meal, chew on the skin and bones of their prey.
Also during mastication endorphins are produced in the brains, these endorphins provide a sense of calm that relaxes your dog.
For our domestic dogs the "skin and bones of prey" are best replaced with clean chewing products such as Antlers®
What are Antlers?
Antlers are the antlers of male deer. Each spring they lose their antlers, after mating, which will then start growing again. Our antlers are collected in southern European forests, and after a quality control brushed and cut. Because the Antlers is a purely natural product, they can still have a slight earthy smell and they all differ in colour, weight, shape and thickness.
Antlers and your dog
Antlers have a nice natural scent that appeals to dogs. Antlers are solid and hard. Chewing them is a nice natural activity for your dog. Chewing creates a 'sanding effect' between the teeth of your dog and the bone, causing plaque to be removed. The outside of the antler wears down until the tasty marrow is released, which is a tasty treat in itself!
Our Antlers are also great for young dogs that are teething because they last longer than other chew products. The Antlers are also suited for dogs with allergies or a sensitive digestion, and even for dogs who are overweight because chewing antlers demands a lot of energy and decreases the appetite.
Farm Food Antlers That's why!
A dog that regularly chews Antlers as of a very early age, will reward you by being a contented companion with a fresh breath from a healthy mouth. (If an older dog has already developed calculus, this will have to be removed before a similar effect can be expected).
By using Antlers you have the ability to keep dogteeth clean and hence the ability to prevent calculus. Or: "To prevent is better than to cure".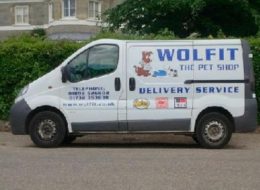 Wolfit Local Delivery Area
If you live within the Wolfit Local Delivery Area you are eligible for our local home delivery service for orders where the items total in value over fifteen pounds or total in weight  over 15kg. This will cost you just £1.50.
View our coverage area