In order to keep fit, adult cats need food rich in quality proteins with adequate and balanced levels of essential amino acids.
Carnilove Salmon for Adult Cats has been formulated with respect for the natural composition of the feline diet. The meat and fat of salmon are ideal sources of omega-3 unsaturated fatty acids, which have anti-inflammatory properties and also have a positive impact on the quality of hair and skin.
Salmon protein is non-allergenic, so it's an ideal source of food for cats with sensitive digestion. With forest fruits, vegetables, and herbs, the formula provides the nutrients, vitamins, minerals, and antioxidants essential to maintaining top physical condition and building natural immunity every day.
75% Wild Origin Meats
Grain & Potato Free
Complete Cat Food
From: £4.75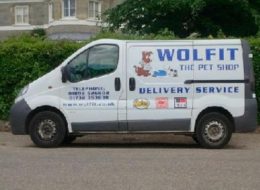 Wolfit Local Delivery Area
If you live in the Wolfit Local Delivery Area and buy 6 bags of Wolfit dog food you get the 7th, of the same size and lowest price, free. Even better there is no time limit on ordering, so you dont need to buy them all at once.
If you live within the Wolfit Local Delivery Area you are eligible for our local home delivery service for orders where the items total in value over fifteen pounds or total in weight  over 15kg. This will cost you just £1.50.
View our coverage area