As a clumping cat litter, Cats Best uses the natural power of refined active wood fibres, which effectively absorb liquids and odours – up to 7 times their own volume.
This neutralises odours so effectively, that the cat litter can remain in the litter tray for up to 7 weeks.
Cat's Best functions best when you regularly dispose of the solid excretions and clumps that form after the cat has used the litter tray. This saves time and costs and ensures the type of hygiene and comfort that cats prefer.
Cats Best is economical and efficient
Gives total odour control with no artificial chemical additives.
Cats Best provides excellent absorption. Far better than conventional litter.
Cat's Best l is made exclusively of renewable raw materials, which means it is both sustainable and biodegradable.
10L
£12.50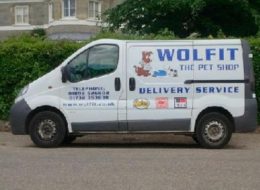 Wolfit Local Delivery Area
If you live in the Wolfit Local Delivery Area and buy 6 bags of Wolfit dog food you get the 7th, of the same size and lowest price, free. Even better there is no time limit on ordering, so you dont need to buy them all at once.
If you live within the Wolfit Local Delivery Area you are eligible for our local home delivery service for orders where the items total in value over fifteen pounds or total in weight  over 15kg. This will cost you just £1.50.
View our coverage area