Tribal 80% Gourmet Sausage comes in either Chicken, Turkey, Lamb, Duck or Salmon.
£4.99
Tribal 80% Gourmet Sausage
THE KEY TALKING POINTS
1. Tribal 80% is a super-premium complete wet food for dogs of all life stages in a convenient and easy to serve gourmet sausage format.
2. The high quality but simple, three ingredient recipes are made with 80% meat or fish (single sourced protein) plus chickpeas and either carrots or parsnips. It is a great option for dogs with allergies, intolerance's or those following an elimination diet.
3. The meats are all responsibly raised from British farms and the fish is sustainably sourced from the Atlantic Ocean. The sausages are all made in the UK.
4. The recipes contain a mixture of both muscle meats and a small proportion of organ meats.
Organ meats are highly palatable and contain natural sources of essential fat-soluble and water-soluble vitamins. For example, in our 80% chicken sausage, we use 7.5% chicken liver and 2.5% chicken lung to provide a natural well-rounded source of nutrition.
5. The high meat content means that dog owners don't have to feed as much. The full feeding guide for both adult dogs and puppies can be found on the labels.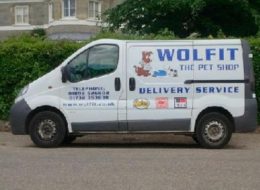 Wolfit Local Delivery Area
If you live in the Wolfit Local Delivery Area and buy 6 bags of Wolfit dog food you get the 7th, of the same size and lowest price, free. Even better there is no time limit on ordering, so you dont need to buy them all at once.
If you live within the Wolfit Local Delivery Area you are eligible for our local home delivery service for orders where the items total in value over fifteen pounds or total in weight  over 15kg. This will cost you just £1.50.
View our coverage area