The Zoom Groom is a unique, multi-use grooming product, offering the ultimate massaging experience and ideal for cats that are adverse to grooming.The massaging action of the firm and flexible fingers is heaven for your pet, and the rubber texture removes loose hair like a magnet.
Zoom Groom is easy to clean and suitable for both short and long haired breeds.  Zoom Groom can also be used to aid shampooing and rinsing as the rubbery brush will not be damaged by water.
Colours may vary.
£6.75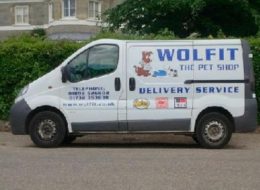 Wolfit Local Delivery Area
If you live in the Wolfit Local Delivery Area and buy 6 bags of Wolfit dog food you get the 7th, of the same size and lowest price, free. Even better there is no time limit on ordering, so you dont need to buy them all at once.
If you live within the Wolfit Local Delivery Area you are eligible for our local home delivery service for orders where the items total in value over fifteen pounds or total in weight  over 15kg. This will cost you just £1.50.
View our coverage area