Bravo Premium Peanut Butter Twisted Sticks are sure to get any dog drooling!
These tasty natural rawhide chews are produced from the tough, inner layer hide of bovine cattle.  Once de-haired, the hide is free of any excess salts or oils.
They are rinsed in large vats of water, absolutely free of any harmful or toxic chemicals.
They are dry roasted providing a safe, healthy and grain free treat.
A good chew helps keep your pet's teeth clean, helps promote gum strength and reduce stress.
From: £0.80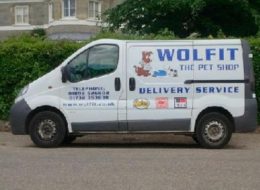 Wolfit Local Delivery Area
If you live in the Wolfit Local Delivery Area and buy 6 bags of Wolfit dog food you get the 7th, of the same size and lowest price, free. Even better there is no time limit on ordering, so you dont need to buy them all at once.
If you live within the Wolfit Local Delivery Area you are eligible for our local home delivery service for orders where the items total in value over fifteen pounds or total in weight  over 15kg. This will cost you just £1.50.
View our coverage area