Ingredients
Chicken 60%, Rice 10%, Carrots 6%, Ground Bone, Dried Seaweed
Nutrients
Crude Protein 10%, Crude Oils & Fats 8%, Crude Fibre 2%, Crude Ash 2.5%, Moisture 72%
Our most popular wet food meal on the menu! Made to a delicious recipe of freshly prepared British chicken, carrots and rice. This complete and nutritionally balanced meal is 100% natural and contains all the essential nutrients your dog needs for a healthy diet.
Gently digested and highly palatable, this tasty single protein chicken meal is suitable for all breeds of adult and senior dogs, as well as puppies over 6 months old.
Appropriate for dogs requiring a low purine diet and those suffering from sensitive digestion and allergies.
£25.20
Why Naturediet?
Feel Good nutritious dog food
Naturediet is an award-winning independent UK dog food manufacturer who are proud of their honest labelling ethos and promotion of valid claims.
The delicious recipes are expertly balanced and carefully created to provide optimal nutrition from essential ingredients. Made in Norfolk, Naturediet only uses high-quality and freshly prepared British ingredients for their 100% natural, complete, wholesome, tasty and nutritious meals.
Naturediet are proud to be the first UK dog food manufacture to specialise in cartons as an alternative to plastic trays, cans and pouches. This innovative and eco-friendly packaging allows for a gentler cooking. This means the food retains its goodness, keeping it fresher for longer and minimising the oxidation of meat
Tetra Pak cartons are widely recyclable in the UK, being primarily made of FSC certified paperboard. The smaller and compact packaging means less lorries on the road, contributing to a smaller carbon footprint.
Stocked in both Tonbridge and Tunbridge wells shops.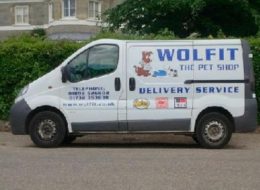 Wolfit Local Delivery Area
If you live in the Wolfit Local Delivery Area and buy 6 bags of Wolfit dog food you get the 7th, of the same size and lowest price, free. Even better there is no time limit on ordering, so you dont need to buy them all at once.
If you live within the Wolfit Local Delivery Area you are eligible for our local home delivery service for orders where the items total in value over fifteen pounds or total in weight  over 15kg. This will cost you just £1.50.
View our coverage area