Suet To Go Suet Pellets are made using high quality beef suet.
Choose from either dried insect, dry mealworm or berry flavour.
All of these will attract a wide range of wild birds to your garden, including robins, finches, blue tits, great tits, long tailed tits, blackbirds, jays, woodpeckers and many more. Perfect for all year round feeding.
Use with a suet pellet feeder, peanut feeder or scatter on the bird table.
550g.
£2.30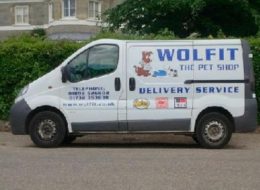 Wolfit Local Delivery Area
If you live in the Wolfit Local Delivery Area and buy 6 bags of Wolfit dog food you get the 7th, of the same size and lowest price, free. Even better there is no time limit on ordering, so you dont need to buy them all at once.
If you live within the Wolfit Local Delivery Area you are eligible for our local home delivery service for orders where the items total in value over fifteen pounds or total in weight  over 15kg. This will cost you just £1.50.
View our coverage area