Fat Balls have a high energy content. They are convenient to handle and are ideal for all year round feeding for a wide variety of wild birds.
The Fat Balls contain suet, cracked grains, oil and mixed seeds.
These Fat Balls are of excellent quality and value. Wild Birds love them. Keep well clear of any fat balls with nets on as the birds can get their feet caught.
Pack of 6 Fat Balls.
From: £1.30
---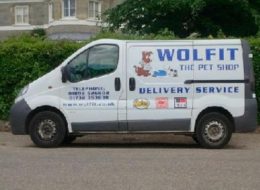 Wolfit Local Delivery Area
If you live in the Wolfit Local Delivery Area and buy 6 bags of Wolfit dog food you get the 7th, of the same size and lowest price, free. Even better there is no time limit on ordering, so you dont need to buy them all at once.
If you live within the Wolfit Local Delivery Area you are eligible for our local home delivery service for orders where the items total in value over fifteen pounds or total in weight  over 15kg. This will cost you just £1.50.
View our coverage area