Ingredients
Chicken Meat Meal (20.44%), Brown Rice (20.44%), Potato (20.36%), Chicken (12.27%), Oats (8.13%), Beet Pulp (7.86%), Poultry Fat (2.56%), Chicken Gravy (2.56%), Brewers Yeast (2.13%), Seaweed (0.6%), Salmon Oil (0.43%).
We all know how easy it is to put on weight and once having put it on how difficult it is to lose it. Overweight dogs are much more likely to develop diabetes, arthritis and heart and respiratory conditions.
This is where a specially formulated "light food" can be used to advantage. With the light food you do not need to cut down drastically the amount you feed the dog and it will have a well-balanced diet which provides the correct amount of calories alongside all the other essential nutrients and not leave the dog feeling hungry.
After taking the advice of a nutritionist we found that the Wolfit recipe for the Senior Dog was ideally suited for this purpose since weight for weight it contained far fewer calories than the Adult food but contained all the essentials for a good diet.
Of special significance in the formulation is a 28.5% reduction in fat compared to the Wolfit Adult recipe.
From: £9.40
You can find out  a lot more about the overweight dog in TopTips.
Nutrients
The addition of components that produce additional Vitamins and Trace Elements that are so essential to the older dog's diet:
Vitamin A

Vitamin D3

Vitamin E

Vitamin C

Iron

Zinc

Manganese

Calcium

Copper

Sodium

Potassium
Extracts and herbs that are believed to promote intestinal health, joint mobility and  healthy skin and coat:
Peppermint

Dandelion

Marigold Flowers

Yuccaa Extract

Glucosamine

MSM

Chondroitin Sulphate

Fructooligosaccharides

Amino Acids (Taurine)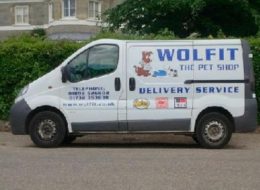 Wolfit Local Delivery Area
If you live within the Wolfit Local Delivery Area you are eligible for our local home delivery service for orders where the items total in value over fifteen pounds or total in weight  over 15kg. This will cost you just £1.50.
View our coverage area