Ingredients
Composition:
Chicken, Turkey and Salmon 60% (including 20% freshly prepared chicken, 14% dried chicken, 7% freshly prepared Turkey, 7% freshly prepared Salmon, 7% dried Turkey, 3% dried Salmon and 2% Chicken stock). 22% Sweet potato, potato, linseed, beet pulp, omega 3 supplement, minerals, vitamins, carrot, peas, vegetable stock, Glucosamine, Chondroitin Sulphate.
A blend of high quality proteins and vegetables to provide balance and an introduction to some really nutritious ingredients. Rich in amino acids for growth and development. Glucosamine, Chondroitin Sulphate and MSN to help with bone and cartilage development in their fastest growth phase.
From: £12.70
Nutrients
Components that produce additional Vitamins and Trace Elements that are so essential to the puppy's diet:
Vitamin A

V

i

tamin 

D

3

Vi

t

a

m

i

n E

Iron

Z

in

c

M

anga

n

e

s

e

Calcium

Cop

p

er

Sele

n

i

um
Extracts and herbs that are believed to promote intestinal health, joint mobility and  healthy skin and coat:
Pro-biotics
Glucosamine
MSM and Chondroitin
Yucca Extract
Sage
Thyme
Marjoram
Parsley
Oregano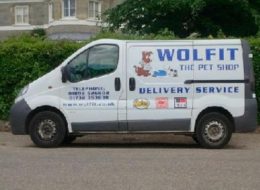 Wolfit Local Delivery Area
If you live within the Wolfit Local Delivery Area you are eligible for our local home delivery service for orders where the items total in value over fifteen pounds or total in weight  over 15kg. This will cost you just £1.50.
View our coverage area