Ingredients
Lamb and Chicken Meat Meal (24.07%), Brown Rice (24.07%), Potato (24.07%), Beet Pulp (5.56%), Poultry Fat (5.56%), Sunflower Oil (3.24%),  Potato Protein (2.78%), Chicken Liver (2.78%), Brewers Yeast (2.31%), Salmon Oil (1.39%), Seaweed  (0.65%).
Like humans every dog is unique with its own likes and dislikes with specific nutritional requirements. However to stay healthy and keep the body in good condition all adult dogs need the proper balance of nutrients.
A mix of chicken or lamb with a blend of ingredients to provide a complete diet which contains all the nutrients, vitamins and minerals that the dog requires.
Of the many natural ingredients Brown Rice is chosen since it provides not only carbohydrates but also essential minerals such as manganese, selenium and magnesium. Then there are items such as Salmon Oil and Marigold Flowers that help with your dogs skin and coat. To help with digestion Peppermint and Dandelion are included. Not forgetting the likes of your dog there is Chicken Liver Digest which makes the food really tasty. You can see all the ingredients with comments on their purpose on the link to Ingredients.
It contains a high proportion of meat to give your dog energy.
£31.90
Nutrients
Vitamins and Trace Elements that are so essential to the adult dog's diet:
Vitamin A
Vitamin D3
Vitamin E
Vitamin C
Iron
Zinc
Manganese
Calcium
Copper
Potassium.
Extracts and herbs that are believed to promote intestinal health, joint mobility and healthy skin and coat:
Peppermint
Dandelion
Marigold Flowers
Yuccaa Extract
Glucosamine
MSM
Chondroitin Sulphate
Amino Acids (Taurine)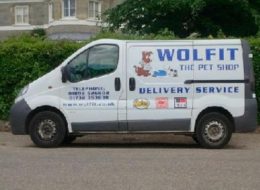 Wolfit Local Delivery Area
If you live in the Wolfit Local Delivery Area and buy 6 bags of Wolfit dog food you get the 7th, of the same size and lowest price, free. Even better there is no time limit on ordering, so you dont need to buy them all at once.
If you live within the Wolfit Local Delivery Area you are eligible for our local home delivery service for orders where the items total in value over fifteen pounds or total in weight  over 15kg. This will cost you just one pound.
View our coverage area