The Wolfit treat bag contains a selection of our most popular treats brought in the shop along with a few new and different items. Selections vary and change each time we bag them.
They will have a mix of protein sources including pig, goat, lamb, rabbit, beef, chicken and camel. The firm favourites we often put in every bag are Pigs ears, rabbit's ears with fur, chicken feet, skin rolls.
From: £6.70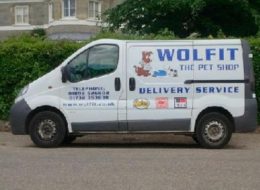 Wolfit Local Delivery Area
If you live within the Wolfit Local Delivery Area you are eligible for our local home delivery service for orders where the items total in value over fifteen pounds or total in weight  over 15kg. This will cost you just £1.50.
View our coverage area