From: £9.60
GoodWood is a long lasting chewable coffee wood that stimulates your dog to chew time and time again. Chewing gives natural dental care, reducing plaque and preventing gum disease. GoodWood is 100% natural and contains ZERO calories and is FREE from caffeine and artificial ingredients. Suitable for overweight dogs and dogs with allergies.
GoodWood flakes away releasing tiny fibres of wood, so there is no need to worry that they will interfere with your dog's digestion or cause choking (it is very unlikely to splinter. However, we would always advise you to supervise your dog when giving them ANY treat or chew).
Comes in three sizes: Small for dogs up to 10kg, medium for dogs up to 20kg and large for dogs over 20kg.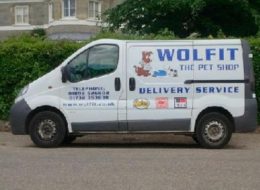 Wolfit Local Delivery Area
If you live in the Wolfit Local Delivery Area and buy 6 bags of Wolfit dog food you get the 7th, of the same size and lowest price, free. Even better there is no time limit on ordering, so you dont need to buy them all at once.
If you live within the Wolfit Local Delivery Area you are eligible for our local home delivery service for orders where the items total in value over fifteen pounds or total in weight  over 15kg. This will cost you just £1.50.
View our coverage area